France has always been a favourite destination for scientists, managers, engineers, thinkers, artists and writers from all over the world, and many have made it their home. The rich cultural diversity and heritage reflected in everyday life, the high quality of education as also the French State's commitment towards welcoming international students make it an attractive destination for higher education. The world's sixth-largest economy, France is also the third most popular destination for international students.
France is the most popular non-English speaking destination for international students in the world, with one of the world's leading education systems and an increasing number of courses being taught in English.
The higher education system in France is flexible and allows you to design your academics in a way that suits your goals and background. The universities in France offer academic, professional and technical degree programs in all disciplines. The French universities invest heavily in research and have a worldwide reputation for quality and a competitive outlook.
High standards of living
High health care standards
Education hub
Strategically located in Western Europe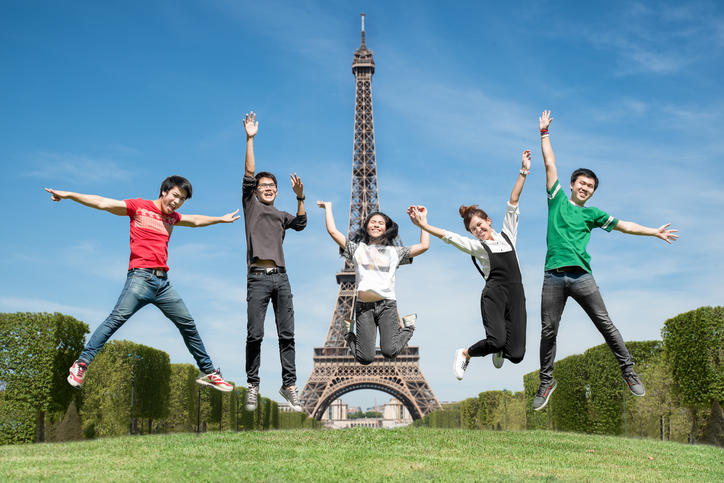 Capital : Paris
Language : French Official
Currency : Euro
Climate : Most of France lies in the southern part of the temperate zone, although the subtropical zone encompasses its southern fringe.
Time Diff. : Paris 5 hrs 30 min behind IST
Education system in France
| | | | | |
| --- | --- | --- | --- | --- |
| Education | School/Level | Age From | Age To | Years |
| Primary | Primary Education | 6 | 11 | |
| Middle | Primary and lower secondary education (Collège) | 6 | 14 | |
| Secondary | General Baccalaureate (Baccalauréat Général) | 16 | 18 | 3 |
| Secondary | Lycée professionnel | 15 | 17 | 2 |
| Vocational | Lycée d'Enseignement général, technologique et professionnel | 15 | 18 | 3 |
| Tertiary | Licentiate (Licence) | | | 3 |
| Tertiary | Master (Maîtrise) | | | 1 |
| Tertiary | Master | | | 1 |
| Tertiary | Doctor (Docteur) Degree | | | 3 |
| Tertiary | Post-doctorat – University level fourth stage | | | |
The major intakes are Fall (September) and some institutions have Summer intakes (March) as well.
Any Graduate Even Gap with Work Experience accepted.
Working while studying in France
French law authorises foreign students to work 964 hours during the year, the equivalent of 60% of the legal work year. On completing the master's course, a student can apply for and get a temporary residence permit – APS, for a period of 24 months.
Study Costs for Education in France. Studying in France is relatively inexpensive because the government funds a significant share of the cost. Annual tuition in a public university is between 126 and 692 Euros, depending on the program. Costs in private institutions are higher.
The overall living costs in France depend on your lifestyle, but, most of all, they depend on your chosen location, mainly the French city you live in. Students studying in France benefit from a state support for living, estimated to 600 euros per month, regardless of nationality.
After securing admission into the University one must start with the visa formalities. Master's Academy provides wide range of services for studying in Canada. Applications and documentation must be submitted to the nearest Master's office. For More information, Contact Master's Academy.